Pros of using HostGator (Shared) Hosting
HostGator has a few noble qualities, including a longer-than-average money back guarantee and an easy-to-use interface for beginners.
Here's a quick summary:
1. Uptime? Very Good – 99.98%
A website is only useful when it's up-and-running, stable and consistent.
Luckily, HostGator was able to hit 99.98% uptime (.04% better than industry average) over the past ten months.
2. Good Support
HostGator conveniently offers 24/7/365 support through the phone, live chat, and email.
3. 45-Day Money Back Guarantee
Most of the web hosts we've reviewed offer a standard 30-day money back guarantee. HostGator bumps theirs up to 45 days, giving you an extra two weeks or so to test drive their offers before getting locked into a one-to-three year term.
It's important to note that there are some restrictions and limitations which apply to HostGator's money back guarantee. Aside from the fact that you must cancel your account within 45 days of purchase.
4. Enhanced Security and Free Migration
HostGator will happily assist you with relocating an existing website over to their services for free (only applies a period of 30-days after initial sign-up).
If you're thinking about shelling out the big bucks (joke – they're not that expensive) for any of their premium plans, you'll also enjoy automated daily database backups, automatic malware removal and a free SSL certificate for processing website transactions.
HostGator is also protected against DDoS attacks.
5. Very User-Friendly for Beginners
HostGator is very user-friendly for beginners (which is nice, considering the utilitarian interfaces of some web hosts read like a foreign language).
They also have endless tutorials, FAQ pages, and documents to help you at every turn, with detailed explanations and simple step-by-step walkthroughs.
Cons of using HostGator (Shared) Hosting
Even though HostGator has a few redeeming qualities, they fall a bit short in some of the most important categories (like uptime and speed).
Here's how they fared in our tests:
1. Not Fast Enough. Just Below Average…
HostGator displayed mediocre page loading times.
Over the last eight months, their average was 984ms, which is a bit (10%) slower than the industry average of 890ms.
That ain't good. Especially when speed is factored into Google's organic search (SEO) ranking algorithm and has been proven to hurt sales with each delayed second.
2. Extra Fee for 'True' Backups
HostGator advertises 'instant backups' as one of their differentiating features on the website. Trouble is that they're referring to manual ones which are available by default in cPanel.
Do you want automated backups to simplify your life? It'll set you back with an extra $15.95 annually.
HostGator Pricing, Hosting Plans & Quick Facts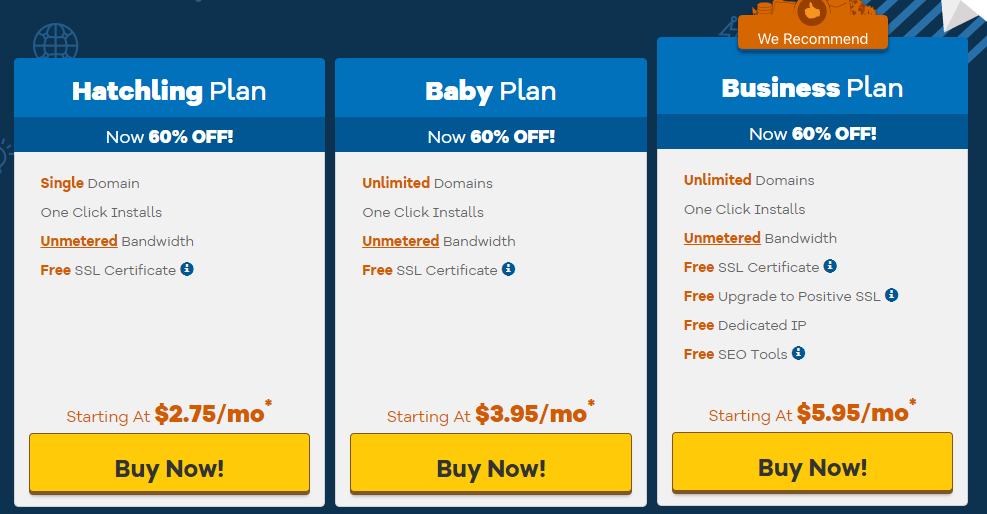 Do We Recommend HostGator Shared?
HostGator is one of the biggest, household web hosting names for a reason. But their regular, shared hosting option is just great for someone who is starting out – it's not for people who are truly serious about their website.
SHOW COUPON